5 Healthy Eating Tips for Women
If you're trying to take better care of your health, you've undoubtedly run into this paradox – the more time and effort you devote to one aspect of taking care of your health, the less time you have to devote to other aspects of taking care of your health (or so it seems).
If you're spending a lot of time exercising and being physically active, for example, you can't devote that time to getting organized or getting more sleep. And if you're trying to eat out less often, you can't devote the time you spend cooking to getting some exercise or taking some time to relax and de-stress. It's a paradox of sorts – and a frustrating one for many women.
And it really hits home for women who want to eat healthier and cook healthier meals. Because the reality is that the quickest way to eat lunch is to grab some fast food. And the quickest way to get dinner on the table is to pick it up at a drive-thru window on the way home from work, soccer practice, or piano lessons. Clearly, though, that approach doesn't do much for your health or your family's health. (Includes affiliate links)
So the question is, can you cook and eat well in the midst of a busy life, when you're also trying to live a generally healthy life and keep up with all of your responsibilities?
The answer is yes – with some planning and organizing – you can. But it takes a little bit of effort. If you're ready to give it a try, here are five healthy eating tips for women who want to eat well, but can't devote hours each day to planning and cooking healthy meals:
5 Healthy Eating Tips for Women
1. Cook double or triple batches.  Whenever possible, double or triple whatever you're cooking. Use it for two meals during the week, or freeze one batch. For example, throw two batches of Tex-Mex Shredded Beef  or Spicy Italian Beef into your Crockpot and cook it all day. Shred the beef and serve it one night on tortillas for Shredded Beef Tacos.
Serve it another night with rice and a vegetable, or put the second batch in the freezer. Do the same with pork barbecue in your Crockpot or Instant Pot. Cook large batches of brown rice and freeze the extra. Whenever you make a casserole that freezes well, make two. Whenever you grill chicken breasts, grill extra.
2. Make and use homemade salad dressings/marinades. I almost always have two salad dressings/marinades – Red Wine Vinaigrette and Balsamic Vinaigrette – mixed up and ready to go. I love them because they're delicious, and they're healthier than any salad dressing I can buy. They also help me get healthy meals on the table quickly.
I use them to marinate chicken breasts or fish, which I then grill or saute in a pan. And for a quick side dish I use them to marinate any combination of vegetables, then spread them in a baking dish and roast at 375 for about 30 minutes (depending on the vegetables). I like small potatoes (or large potatoes cut into pieces), onions, and red and yellow peppers or zucchini, yellow squash, onions and cherry tomatoes.
And, of course, you can use them to quickly and deliciously dress salads – small salads served as a side dish or large salads (topped with some of that grilled chicken breast) as a meal. Or try adding some dried cranberries and sliced almonds to a salad that's dressed with Balsamic Vinaigrette – delicious!
3. Cut up fruits and vegetables on the weekend and have them ready for the week. You can do this in about 30 minutes. It's much easier to cook with and serve fruits and vegetables if they're washed and cut, ready to go. It's also easier for family members to snack on fruits and vegetables when they're an easy choice – as easy to grab as chips or cookies. You're much more likely, at the end of a long day, to make a salad for dinner if the salad vegetables are cut up and ready to go. (Find more simple food prep tips here.)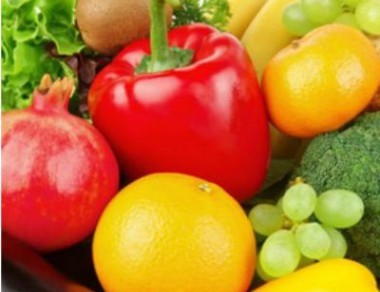 4. To save time, serve very simple side dishes.  At my house, a plate of sliced raw vegetables or baby carrots  can be a side dish. So can a dish of applesauce, sliced apples, or a plate of grapes. Or a baked sweet potato. So in my book, a pan-cooked chicken breast, some brown rice that I cooked earlier in the week (with a little butter), and some baby carrots and grapes is a quick and healthy meal! As is sliced ham, a baked sweet potato, and some unsweetened applesauce. (You can make your own delicious applesauce very easily.)
5. Make a meal plan every week.  If you don't have a plan, the drive-thru window will beckon. Each weekend, check your calendar for the coming week, and take 10-15 minutes to plan your meals accordingly. Cook extra or make slightly more complicated meals on nights when you have extra time, and plan for quick, healthy meals on the nights you don't. Over time, build your repertoire of quick, healthy recipes and meals. Do some research a little bit at a time, and gradually add new recipes and techniques to your cooking routine.
For more quick and easy meals plus additional healthy eating tips, get a copy of my ebook, Quick. Healthy. Delicious. Simple Meal Solutions for Busy Moms and Hungry Families. Use the code FRIEND25 at checkout to save 25%.
Is cooking healthy meals for your family a challenge for you? What is most difficult? What strategies have worked for you? Let me know – I'd love to hear from you.